Jeffrey Alent, D.O.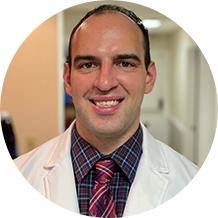 Dr. Alent is a Board Certified, fellowship trained Sports Medicine physician dedicated to the treatment of musculoskeletal and sports-related injuries. As a non-operative specialist, Dr. Alent devotes himself to treating each patient as a unique individual, developing a comprehensive plan of care while recommending surgery only when absolutely necessary.
Dr. Alent is a member of the American Medical Society for Sports Medicine and has been published in multiple medical journals. He focuses his medical interests in prevention of injury and rehabilitation. He prides himself on maximizing non-surgical management, offering regenerative medicine techniques such as PRP (platelet rich plasma) for his patients with refractory pain who have failed other treatment.
Dr. Alent studied Materials Engineering at Michigan State University, where he had the privilege of earning an undergraduate research scholarship for his work with Nickel-Titanium alloys. Dr. Alent then studied medicine at the Michigan State University College of Osteopathic Medicine and completed his Internal Medicine residency training through the Detroit Medical Center.
After completing his residency training, Dr. Alent moved to Florida to pursue his Primary Care Sports Medicine Fellowship training through the University of South Florida (USF) and Baycare-Morton Plant health systems.
Dr. Alent has experience as a physician working at numerous sporting events including sideline, training room, and event coverage with USF Bulls Football, USF Men's and Women's Soccer and Basketball teams, Philadelphia Phillies and Toronto Blue Jays MLB organizations, Clearwater Threshers and Dunedin Blue Jays minor league baseball teams, and numerous high schools. Dr. Alent has a passion for endurance medicine and has been an event physician at multiple Iron Man events, marathons, and triathlons.