Kevin B. Shrock, M.D., FAAOSBoard Certified Orthopaedic Surgeon
Medical Director, Fort Lauderdale Ortho Walk-In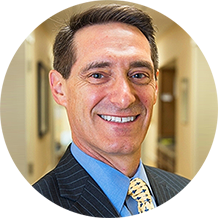 Kevin B. Shrock, M.D., has been dedicated to treating orthopaedic Fort Lauderdale patients in the Broward County area since 1994. He is board certified in orthopaedic surgery and fellowship trained in sports medicine. His expertise includes arthroscopic and complex reconstruction of the shoulder and knee as well as shoulder, hip, and knee joint replacement, even in younger, more athletic patients. He employs the latest in minimally invasive techniques and technology, including knee cartilage restoration and transplantation, short stay joint replacement, and reverse shoulder replacement. Patients come to him with challenging orthopaedic problems others are unable or unwilling to tackle. He prides himself in his ability to figure out these unusual cases and help the patient in finding a solution.
His education and training is exceptional. After receiving a B.S. in Molecular Biochemistry and Biophysics magna cum laude from Yale University, Dr. Shrock received his medical degree from Stanford University Medical School. He completed his internship in general surgery at Northwestern University/McGaw Medical Center and his residency at the Harvard University/Massachusetts General Hospital Combined Orthopaedic Residency Program. He then completed his fellowship in Sports Medicine with Douglas Jackson, M.D., past president of both the American Academy of Orthopaedic Surgeons and Arthroscopy Association of North America. He has practiced in South Florida since 1994 at the same Fort Lauderdale location.
While Dr. Shrock is dedicated to caring for his patients, he is equally dedicated to using his education and experience to improve the practice of orthopaedics both locally, nationally, and internationally. In 2008, Dr. Shrock was elected by his South Florida orthopaedic colleagues to the Board of the Florida Orthopaedic Society. He was then elected by his peers to the Board of Councilors (BOC) of the American Academy of Orthopaedic Surgeons (AAOS) as a Florida Representative and is now serving his second three year term. Last year he was elected as the Chairman of its Committee on Professionalism and also appointed to the Executive Board of the BOC. He has successfully promoted initiatives for truth in advertising, disaster relief, and surgeon recertification to try to improve the quality of orthopaedic care nationally. He remains committed to using his professional experience as a surgeon to improve his profession and the lives of those it helps.
As one of the orthopedic surgeons South Florida patients can count on for excellent treatment, he makes sure community service also remains one of his priorities. A three-time Ivy League and three-time New England All-Around gymnastic champion at Yale, Dr. Shrock currently serves as a staff orthopaedic consultant for the USA Gymnastics Team and helps provide knowledgeable orthopaedic care for local gymnasts and other competitive athletes. Additionally, his orthopaedic trauma and general orthopaedics expertise made his presence volunteering in Haiti invaluable immediately after its devastating earthquake. He and his family have remained active promoters and fundraisers for the Alyn Pediatric Rehab Hospital in Jerusalem. Finally, he has served in various Board and committee positions for various local organizations, most notably, on the Board of the David Posnack Jewish Day School.
Training
Fellowship in Sports Medicine, Long Beach Memorial, Douglas Jackson, M.D., Director, 1994
Harvard University /Massachusetts General Hospital – Orthopaedic Residency, 1992
Northwestern University/McGaw Medical Center- General Surgical Internship, 1988
Stanford University -Medical Degree, 1987
Yale University – B.S. Molecular Biochemistry and Biophysics, Magna cum Laude, 1982
Credentials
Fellow, American Academy of Orthopaedic Surgeons
ABOS Diplomate, Board Certified In Orthopaedic Surgery 1997
ABOS Recertified 2007, 2017
Leadership Positions
Elected Board Member, Florida Orthopaedic Society, 2008-Present
Member, AAOS Board of Councilors, AAOS (2013-2016, 2017-Present)
Member, AAOS Executive Board of Councilors (2016-Present)
Chair, BOC Committee on Professionalism (2016-Present)
Member, AAOS Committee on Medical Liability 92013-Present
Chief of the Orthopaedic sub-section at Broward General Medical Center 2000-2002
Memberships
Arthroscopy Association of North America, Active Member
Broward County Orthopaedic Society, Member
Fort Lauderdale Surgical Society, Member
Broward County Medical Association, Member
American Academy of Orthopaedic Surgeons, Fellow
Get your life back with the help of one of the orthopedic surgeons Fort Lauderdale and the rest of the nation can trust. Make an appointment to see Dr. Shrock by calling Fort Lauderdale Orthopaedics & Sports Medicine today. Click below for appointment times or use our convenient Request an Appointment form.